Ebira Food: How To Cook Gorigo Soup (Beniseed), Ebira Soup.
Gorigo Soup – Beniseed soup is a rich, healthy, low carbohydrate soup eaten with pounded yam and commonly eaten in middle belt states in Nigeria. Its appearance is very similar to that of egusi soup, but it tastes quite different. Beniseed soup is made from sesame seeds and that's what gives it that rich, nutty flavor.
Mostly common among Ebira People, Epi-Gorigo, is a thing in Ebiraland and Nigeria. Traditionally, in some parts of Nigeria, it is cooked without fresh tomatoes or red bell peppers (Akoko) (Tatashe) but the taste without tomatoes or bell peppers is always overwhelming for me so I cook with that.
Sesame seeds are very nutritious. They contain vitamins, minerals and natural oils that aid in blood pressure management, bone health, diabetes management, skin and hair health and a host of other benefits. It is important to note that sesame seeds in large amounts may cause stomach irritation so be watchful of the amount you consume (Confirm By My Doctor).
Beniseed soup is very reminiscent of Nigerian Egusi Soup, in the way it is prepared. If you want to prepare it in the very traditional way, once the meats are cooked, add your oil, then your blended sesame seeds before finally adding your vegetables. If you want to cook it like mine, check out the recipe below.
Also Read: How to cook Egusi Soup, Ipapara (Melon Soup)
Recipe for Gorigo Soup (Beniseed Soup) Ebira Traditional Soup
Ingredients
A Cup of Gorigo (Sesame Seeds)
1 cup of blended red bell pepper, tomato and scotch bonnet pepper mix.
One large bulb of Onion
7 Pieces of Beef (optional)
5 Pieces of Kpomo, aka Upa Huru (Cow or Sheep Skin) (optional)
1/2 cup of Crayfish pieces (optional)
Seasoning cubes
1 tablespoon of Crayfish powder
A handful of chopped Bitter leaves
1 handful of chopped scent leaves
2 cooking spoons of Palm Oil
Also Read: How To Cook Ebira Epehu Soup Popularly Known As Okra Soup.
Method Of Cooking Gorigo Soup (Beniseed), Ebira Traditional Soup
Wash, season and boil your meats and set aside.
Pour your sesame seeds into a pot and stir fry for 1-2 minutes.
Blend the sesame seeds till a powder texture is achieved.
I've only really gotten consistent results using a personal blender. It comes out nice and clumpy and some of the natural oils in the sesame seeds are released which is what you want to happen. When I tried using a regular blender, the grains just kept spinning round and round and nothing really happened. You can use the same blender for the peppers and sesame seeds. Just give a quick rinse before you blend the sesame seeds.
In a separate pot, heat up the palm oil, fry your chopped onions and tomato-pepper mix.
Add your seasoning and crayfish powder and allow to simmer for a few minutes.
To the sauce, add your meats and crayfish pieces and stir.
Pour in your blended sesame seeds and stir into the sauce, until it begins to clump together.
Finally, add in your chopped bitter leaves and scent leaves.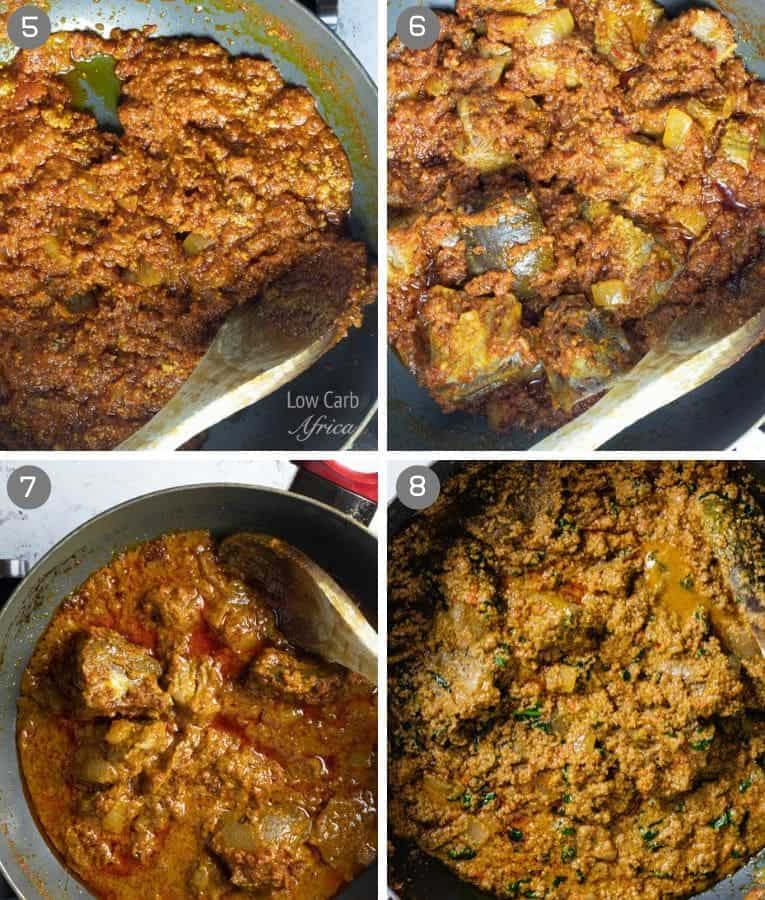 Serve your beniseed soup with any swallow of your choice.
This is the end of the tutorial thanks for reading please don't forget to drop your comments below and share with your friends. For more Ebira Foods Click Here
Please feel free to contact me,
Phone/Whatsapp: +2347033004080
Email: ebiraonline@gmail.com
Facebook Page: Ebira Online Media